Serving Brunch, Lunch, and Dinner in NYC's Meatpacking District
Located on the ground floor is The Chester, a bar and American bistro that cater to both the public and guests of the hotel. The Chester offers an approachable menu, and patrons can opt to sit indoors or outdoors. Consider The Chester your local neighborhood gathering place for all occasions that require great food. Not only do we serve delicious plates for lunch and dinner, we're a favorite spot amongst locals for brunch in the Meatpacking District. The Chester transforms into a lively meeting spot, perfect for after-work drinks or watching a game. The Chester can easily be transformed for private events.
OPENING HOURS
Monday - Thursday: 12PM - 10PM
Friday: 12PM - 12AM
Saturday: 11AM-12AM
Sunday: 11AM - 10PM
DRESS CODE ENFORCED: Athletic wear not permitted. The dress- downtown chic meets well tailored attire, proper shoes required. Bring your personal style with a smart-casual twist at the exclusive Gansevoort Rooftop featuring 360 New York City skyline views.
GAME SEASON: For any major game season (football, basketball, etc.), minimums will be $100/person. Reservations strongly recommended.
Menus
ALL DAY MENU
*V = VEGETARIAN
*GF = GLUTEN-FREE

TO START
GUACAMOLE 18
tortilla chips *V *GF
QUESO 16
four cheese blend, tortilla chips*V

SRIRACHA WINGS 20
prize-winning honey sriracha sauce

FISH TACOS 19
choice of fried or grilled
cabbage slaw, cotija cheese, tartar sauce
SPINACH + ARTICHOKE DIP 19
tortilla chips*V *GF

BEEF SLIDERS 19
lettuce, tomato, pickles, cheddar
FLORENTINE OMELET 20
tomato, spinach, swiss cheese
choice of fries or salad
substitute egg whites +2
BOARDS
PROSCIUTTO + FIGS FLATBREAD 26
goat cheese, arugula

MARGHERITA FLATBREAD 20
fresh mozzarella, roasted tomatoes, basil *V
BBQ CHICKEN FLATBREAD 24
grilled chicken, barbecue sauce, mozzarella
BURGERS + SANDWICHES
served with hand-cut fries

CAPRESE GRILLED CHEESE 18
fresh mozzarella, tomatoes, house-made pesto,
toasted brioche*V
CROQUE MONSIEUR 20
hot ham, gruyere cheese, bechamel sauce
add egg+1

GRILLED CHICKEN 20
grilled chicken, lettuce, tomato, chipotle aioli
MEATBALL SANDWICH 20
meatballs, tomato sauce, provolone cheese

VEGGIE BURGER 20
tzatziki, avocado, tomato *V
add swiss or cheddar cheese +3
CHESTER BURGER 24
cheddar, bacon, lettuce, tomato
onion, pickles, chipotle aioli mayo
toasted brioche
SALADS
FRESH BURRATA 19
heirloom tomatoes, fresh basil, balsamic reduction *V

SUMMER SALAD 19
mixed greens, tomatoes, cucumber, grilled corn,
avocado,cojita cheese, white balsamic dressing *V *GF
add chicken +7
CAESAR SALAD 18
romaine hearts, parmesan, anchovies, croutons
add chicken +7

WATERMELON SALAD 25
heirloom tomato, feta, balsamic glaze *V

FARRO + SPINACH SALAD 24
cranberries, goat cheese, citrus vinaigrette *V

BABY KALE + ARUGULA 19
butternut squash, quinoa, feta cheese,
cucumber, citrus vinaigrette*V
add chicken +7

ENTRÉES
ROTISSERIE CHICKEN 28
roasted half chicken, seasonal mixed vegetables *GF
PAN-SEARED SALMON 30
couscous, lemon dill reduction*GF
STEAK FRITES 36
chimichurri butter, hand cut fries *GF
PARPADELLE BOLOGNESE 28
traditional meat sauce, shaved parmesan
LINGUINE PRIMAVERA 24
asparagus, green peas, cherry tomatoes,
artichoke hearts, shaved parmesan
PENNE À LA VODKA 28
grilled chicken, shaved parmesan
*gluten-free substitutions available upon request
ON THE SIDE *V
HAND-CUT FRIES 10
TRUFFLE FRIES 12
SAUTÉED FRENCH BEANS 10
ROASTED BRUSSEL SPROUTS 12

DESSERT 12
CREME BRÛLÉE
CHOCOLATE CHIP COOKIE A LA MODE
BROWNIE A LA MODE
MIXED FRUIT TARTE
CHESTER CLASSICS
Chester Old Fashioned 22
Woodinville Bourbon, homemade old fashioned syrup
bitters, lemon oils

The Gansevoort 19
Grey Goose, St. Germaine
grapefruit, sparkling wine

Double Espresso Martini 22
Grey Goose infused vanilla, Caffè Borghetti
Espresso, Fernet Branca

SPECIALTY COCKTAILS
Galocher 19
Patron Silver, Illegal Mezcal Joven
agave, tabasco, tajin salt rim

The Green Door 19
Volcan De Mi Tierra silver, pistachio syrup
london essence grapefruit & rosemary tonic
Smoke & Mirrors 22
Volcan De Mi Tierra Cristalino, tangerine
citrus, oak smoke

Frances Ha 19
Suyo Pisco, grenadine, Amaro Santoni
egg white, butterfly garnish

Manhattan's Finest 19
Bombay Saphire, Martini Rosso
martini bitters, tonic

The Windsor 19
Grey Goose Citrus & Berries, St-Germaine
Cucumber

The Smurf 19
Ketel One, Malibu, cotton candy

Lavender & Honey 19
Bacardi Carta Blanca, lavender, london essence
bitter orange & elderflower tonic

Lee's Plan 20
Cazadores Reposado, Martini Fiero
Chandon Garden Spritz

Bittersweet Symphony 20
Maker's Mark, Martini Rubino, martini bitters
oak barrel aged

DRINKS
American Coffee 4
Iced Coffee 4.5
Espresso 3.5
Cappuccino 5
Macchiato 4
Hot Tea 4
Iced Tea 7
Lemonade 7
Arnold Palmer 7
Still Water (Large) 10
Spakling Water (Large) 10
MOCKTAILS 14
Not A Gin & Tonic
Seedlip Spice 94, london essence grapefruit
& rosemary tonic

Not A Vodka & Soda
Seedlip Spice 94, london essence bitter orange
& elderflower tonic

ROSÉ + SPARKLING
glass/bottle
Gris Blanc, Gerard Bertrand 16/70
Whispering Angel 18/80
Moët Chandon Brut 32/150
Moët Chandon Rosé 35/175
Cruset Blanc de Blancs 17/65
WHITE WINE
glass/bottle
Sauvignon Blanc - Cote des Roses 16/70
Sancerre, L'Escape 20/95
Chardonnay, Imagery 18/85
Pinot Grigio - Grandi Mordi 16/70
Pecorino - Nestore Bosco 15/65
Chablis - Joseph Le Roi 19/90

RED WINE
glass/bottle
Pinot Noir, Excurdo Rojo 16/65
Malbec, Aguaribay 16/65
Cabernet Sauvignon, UKO 16/65
Shiraz, Barossa Valley 15/60
Barbera d'Astis, Prunotto Fiulot 17/65

*Vintage selection is subject to availability.

DRAFT
Please see our specials for daily draft selection.

BOTTLED BEER
Peroni 11
Carona Light 11
Guiness 11
Dogfish Head Sea Quench Ale 12
Sixpoint Crip Lager 12
Sixpoint Bengali Ale 12
Montauk Summer Ale 12
Montauk Watermelon 12
CIDER + SELTZER 10
Angry Orchard
Truly Seltzer Wild Berry
Truly Seltzer Pineapple
HAPPY HOUR
MONDAY - FRIDAY 4-7PM
$12 CLASSIC COCKTAILS
Margarita / Moscow Mule / Espresso Martini
OR
$40 PITCHERS
$10 WINE
Select Red + White by the glass
$8 BEER
Select Drafts + Bottles
$12 APPETIZERS
Sriracha Wings (Prize-Winning Honey Sriracha Sauce)
Guacamole + Chips
Beef Sliders

BRUNCH MENU
available Saturday - Sunday 11AM - 3PM only
*V = VEGETARIAN
*GF = GLUTEN-FREE

BRUNCH COCKTAILS
BLOODY MARY 21
Tito's, tomato juice, homemade spicy mix
olives, celery, lemon

MIMOSA 21
fresh orange juice, sparkling wine

BELLINI 21
peach puree, sparkling wine
BREAKFAST CLASSICS
FRENCH TOAST 18
brioche, maple syrup, butter*V
CHICKEN & WAFFLES 24
sweet waffles, fried boneless chicken
STEAK FRITES 34
chimichurri butter, hand-cut fries *GF

SANDWICHES + TOASTS
AVOCADO TOAST 19 *V
add soft boiled egg +3

CAPRESE GRILLED CHEESE 20
fresh mozzarella, tomatoes, house-made pesto,
toasted brioche*V

MARGHERITA FLATBREAD 20
fresh mozzarella, roasted tomatoes, basil *V
CHESTER BURGER 24
bacon, cheddar, lettuce, tomato
onion, pickle
PLATES + EGGS
AMERICAN BREAKFAST 22
2 eggs your way, roasted home fries
choice of: applewood smoked bacon or breakfast sausage

COUNTRY BREAKFAST 25
eggs your way, duck sausage, hoisin sauce, home fries *GF

FLORENTINE OMELET 20
tomato, spinach, swiss cheese, home fries*V
add egg whites +2

BREAKFAST SANDWICH 19
eggs, bacon, cheddar, hash browns
choice of bagel: plain or everything

SAUSAGE, EGG, CHEESE SANDWICH 19
sausage, egg, gruyere, brioche bun, home fries

SUMMER SALAD 19
mixed greens, tomatoes, cucumber, grilled corn, avocado
cojita cheese, white balsamic dressing *V *GF
add chicken +7

ON THE SIDE *V
HAND-CUT FRIES 10
TRUFFLE FRIES 12
SAUTÉED FRENCH BEANS 10

DESSERT 12
CREME BRÛLÉE
MIXED FRUIT TARTE
BROWNIE A LA MODE
CHOCOLATE CHIP COOKIE A LA MODE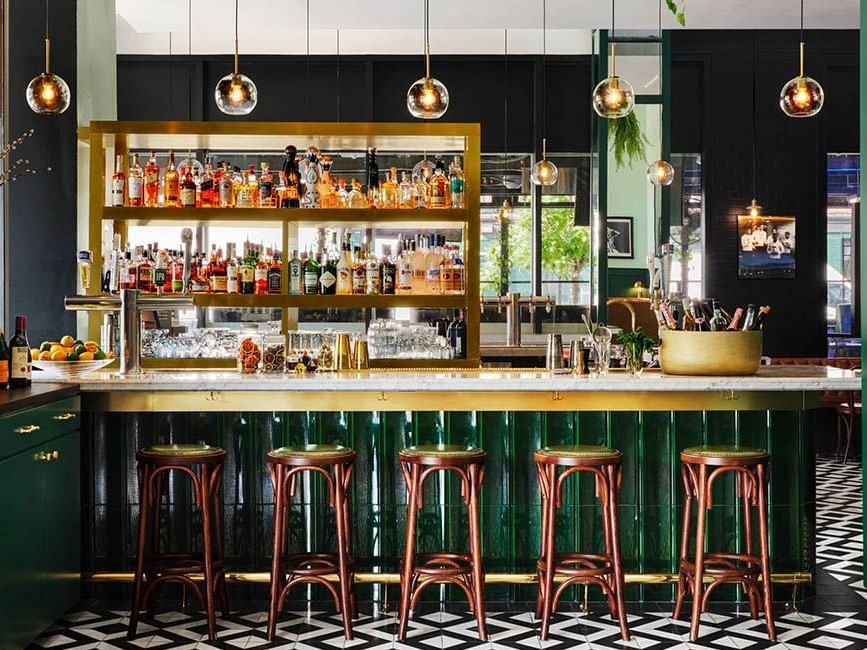 chesterbar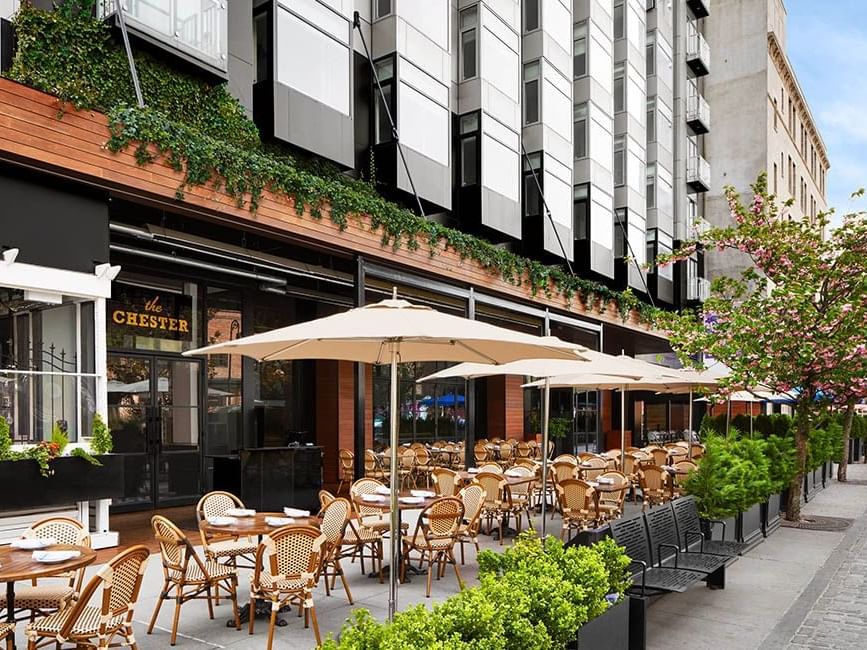 outsidechester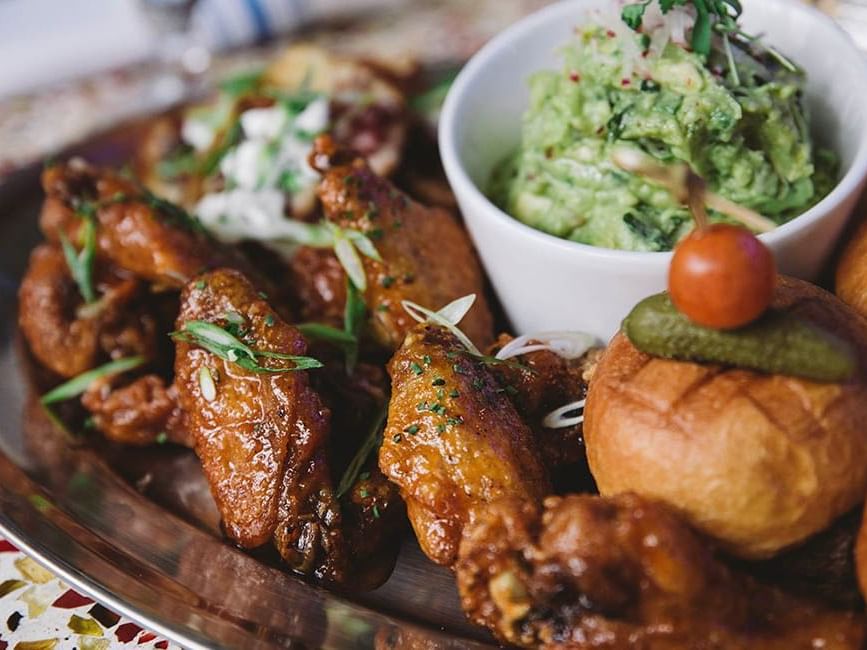 chester-wings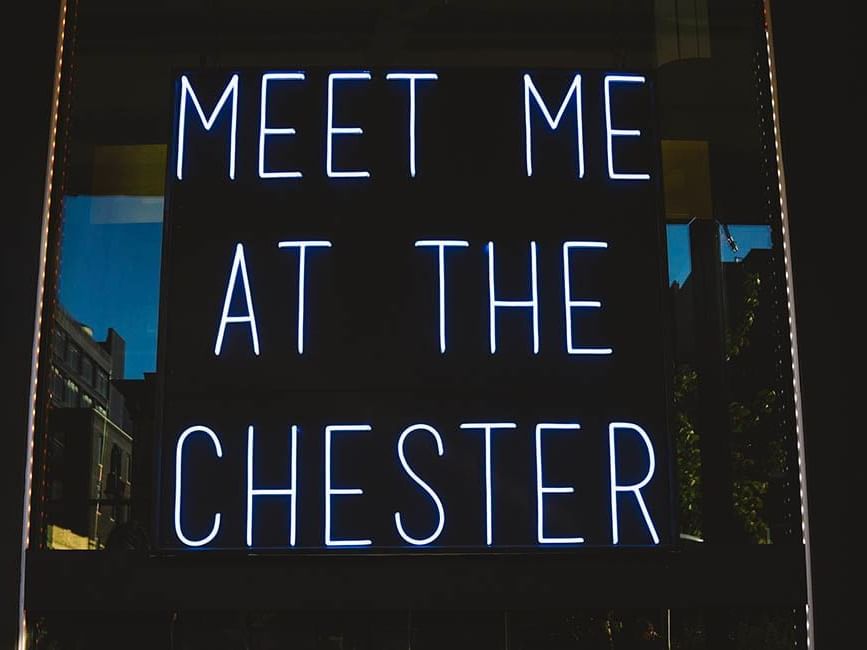 meetmeatthechestersign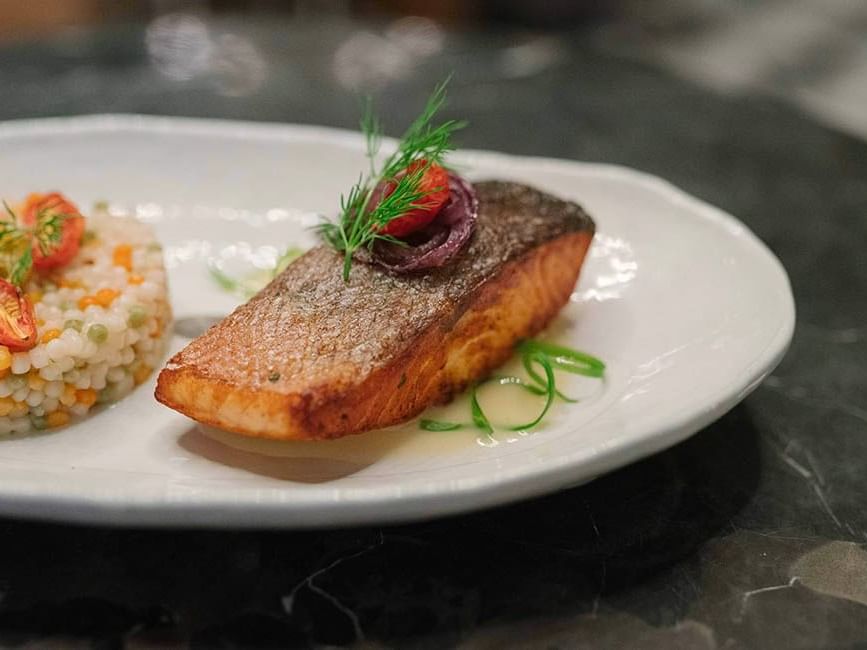 salmon-chester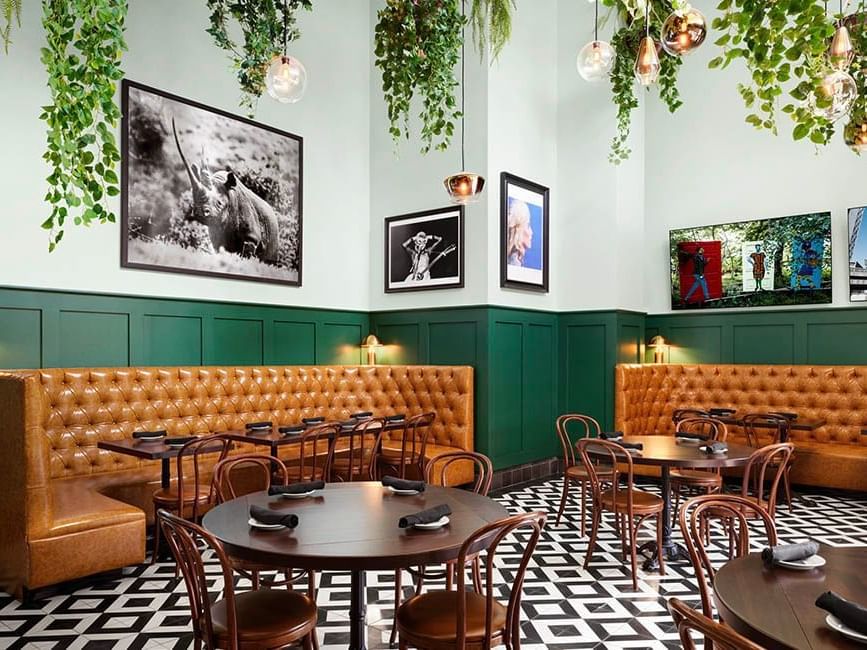 newinsidechester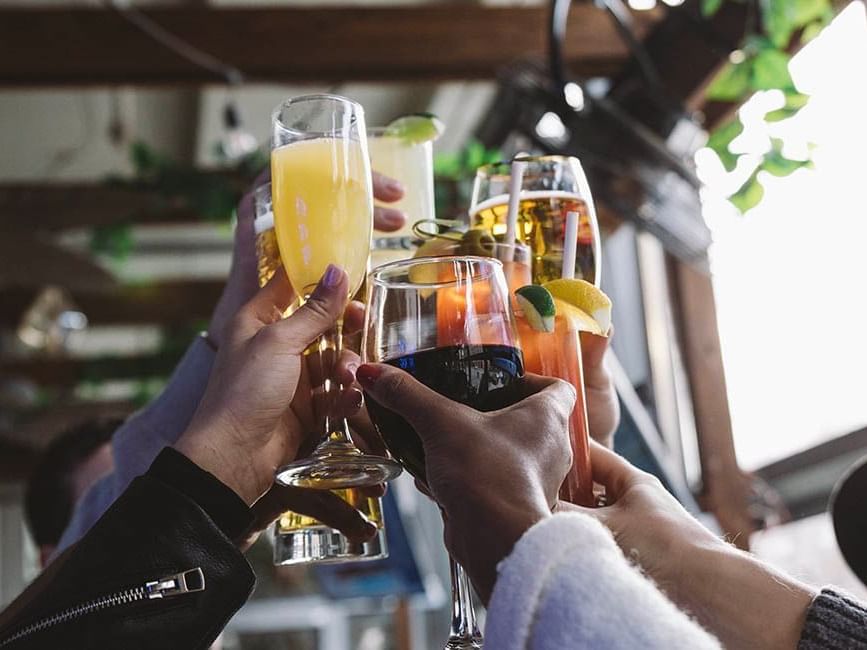 drinks-chester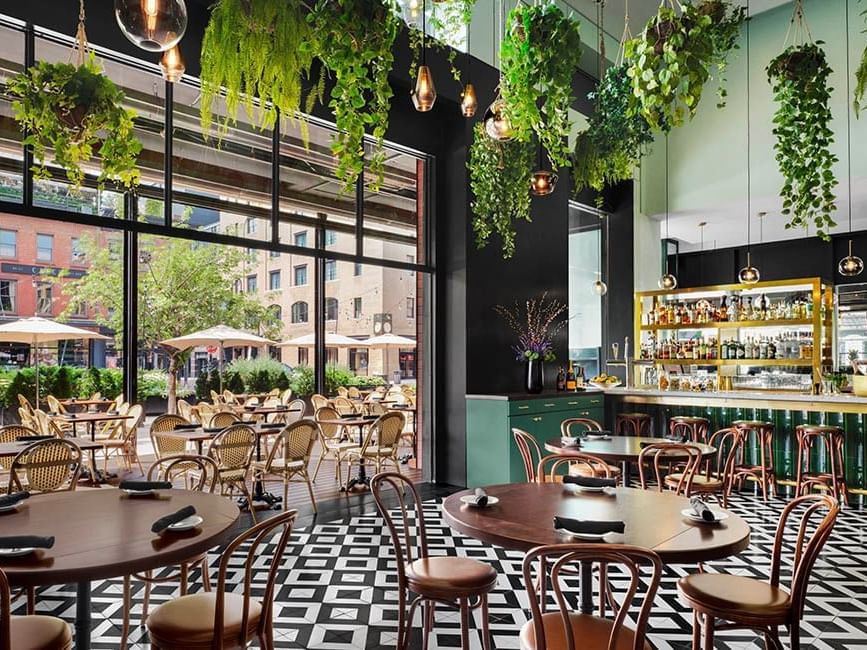 newchesterrest