A favorite spot amongst locals in the Meatpacking District is The Chester, an American bistro and bar that offers an approachable menu with indoor and outdoor patio dining. Consider The Chester your neighborhood gathering place for all occasions that require great food; and transforms into a lively meeting spot, perfect for after-work drinks, weekend brunch, or watching a game.
RESERVATIONS
Walk-ins are welcome, but seating is limited. Reservations are encouraged through SevenRooms or by emailing Dining@theghg.com
HOURS
Monday - Thursday: 12PM - 10PM
Friday: 12PM - 12AM
Saturday: 11AM - 12AM
Sunday: 11AM - 10PM
DRESS CODE
Smart-casual attire. Athletic wear is not permitted and proper shoes are required.
GAME SEASON
For any major sport season game (football, basketball, etc.), minimum spend will be $75 per person. Reservations are strongly recommended.
MINIMUM SPENDS Groups of 9 or more will be subject to a higher minimum. Kindly submit a request to our Events Team to plan your experience.
SPECIAL EVENTS
Submit Your Request for Special Event Information Opens in a new tab.
Menus
ALL DAY MENU
*V = VEGETARIAN
*GF = GLUTEN-FREE

TO START
SOUP OF THE DAY 14
GUACAMOLE 18
tortilla chips *V *GF
QUESO 16
four cheese blend, tortilla chips *V

SRIRACHA WINGS 20
prize-winning honey sriracha sauce

FISH TACOS 21
choice of fried or grilled
cabbage slaw, cotija cheese, tartar sauce
SPINACH + ARTICHOKE DIP 19
tortilla chips *V *GF

BEEF SLIDERS 19
lettuce, tomato, pickles, cheddar
FLORENTINE OMELET 20
tomato, spinach, swiss cheese
choice of fries or salad
substitute egg whites +2
BOARDS
PROSCIUTTO + FIGS FLATBREAD 26
goat cheese, arugula

MARGHERITA FLATBREAD 20
fresh mozzarella, roasted tomatoes, basil *V
BBQ CHICKEN FLATBREAD 24
grilled chicken, barbecue sauce, mozzarella
BURGERS + SANDWICHES
served with hand-cut fries

CAPRESE GRILLED CHEESE 20
fresh mozzarella, tomatoes, house-made pesto,
toasted brioche *V
CROQUE MONSIEUR 20
hot ham, gruyere cheese, bechamel sauce
add egg+3

GRILLED CHICKEN 22
grilled chicken, lettuce, tomato, chipotle aioli
BUTTERMILK FRIED CHICKEN 26
cabbage slaw, pickles, crispy bacon, pepperjack
cheeese, garlic chipotle aioli, brioche bun
FISH PAILLARD 27
grilled fillet of fish, baby butterhead lettuce
roasted yellow tomato, tartar sauce, brioche bun
SIRLOIN STEAK 29
8oz angus grilled sirloin, sautéed mushrooms
peppers, onions, fresh baked French baguette
TURKEY CLUB 25
roasted turkey breast, bacon, cheddar cheese
lettuce, tomato, onion, mayonnaise
nine-grain bread
VEGGIE BURGER 20
tzatziki, avocado, tomato *V
add swiss or cheddar cheese +3
CHESTER BURGER 24
cheddar, lettuce, tomato, onion
pickles, chipotle aioli mayo, toasted brioche
add bacon +3
WAGYU BURGER 36
kumato tomato, caramelized onions, garlic aioli
SALADS
FRESH BURRATA 19
heirloom tomatoes, fresh basil, balsamic reduction *V

HOUSE SALAD 19
mixed greens, tomatoes, cucumber, grilled corn,
avocado, cojita cheese, white balsamic dressing *V *GF
add chicken +7
CAESAR SALAD 20
little gem lettuce, parmesan, anchovies, croutons
add chicken +7 | add salmon +10

BABY KALE + ARUGULA 21
butternut squash, quinoa, feta cheese,
cucumber, citrus vinaigrette *V
add chicken +7
COBB SALAD 29
romaine, grilled chicken, blue cheese crumble
crispy bacon, boiled egg, avocado, kalamata olives
WATERMELON SALAD 26
fresh cut seedless watermelon, heirloom tomatoes
burrata, heart of palm, balsamic reduction

ENTRÉES
ROTISSERIE CHICKEN 28
roasted half chicken, seasonal mixed vegetables *GF
PAN-SEARED SALMON 30
couscous, lemon dill reduction *GF
STEAK FRITES 38
chimichurri butter, hand cut fries *GF
PAPPARDELLE BOLOGNESE 28
freshly house-made pasta, traditional meat sauce, shaved parmesan
LINGUINE POMODORO 24
freshly house-made pasta, sautéed heirloom tomatoes
garlic, fresh basil, shaved parmesan *V
PENNE À LA VODKA 28
grilled chicken, shaved parmesan
ON THE SIDE *V
HAND-CUT FRIES 10
TRUFFLE FRIES 12
SAUTÉED FRENCH BEANS 10

DESSERT 14
FUDGE CAKE
warm chocolate lava cake, vanilla ice cream

VANILLA CRÈME BRÛLÉE
rich cream custard topped with caramlized sugar

TROPICAL CHEESECAKE
mango and pineapple coulis

APPLE TARTE
sweet tart dough, frangipane, caramelized apples
salted caramel ice cream

CRUNCHY BROWNIE CAKE
gianduja chocolate mousse
SPECIALTY COCKTAILS 21
Galocher
Patron Silver, Illegal Mezcal, Lime
Agave, Tobasco

The Green Door
Konik's Tail Vodka, Pistachio Syrup
Q Mixers Sparkling Grapefruit
Smoke & Mirrors
Volcan De Mi Tierra Cristalino, Tangerine,
Citrus, Oak Smoke
The Gansevoort
Tito's, St. Germaine
Grapefruit, Prosecco
Frances Ha
Suyo Pisco, Lime, Grenadine, Amaro, Santoni

The Windsor
Belvedere, Cucumber Juice, Lime, Agave
Chester Old Fashioned
Woodinville Bourbon, Old Fashioned Syrup, Bitters
Maple Story
Angel's Envy Bourbon, Montenegro,
Maple Syrup, Walnut Bitters
Lavender & Honey
Bacardi Superior, Lavender & Honey
Q Mixers Elderflower Tonic Water
Double Espresso Martini
Grey Goose Infused Vanilla, Fernet Branca
Caffè Borghetti, Espresso
SANGRIA 18
choose: red or white
select spirit: Diplomatico Rum, Fords Gin
Absolut Vodka

DRINKS
American Coffee 4
Iced Coffee 4.5
Espresso 3.5
Cappuccino 5
Macchiato 4
Hot Tea 4
Iced Tea 7
Lemonade 7
Arnold Palmer 7
Still Water (Large) 10
Spakling Water (Large) 10
MARGARITAS 22
Cesarina
Maestro Dobel DIamente, Mango, Mint
Carolina
Altos Silver, Del Maguey Vida, Italicus
Cilantro, Cucumber
Paola
400 Conejos Joven Mezcal, Volcan Blanco
Dragonfruit, Pineapple, Coconut

Gabriella
Patron Silver, Passionfruit, Jalapeño, Tobasco

Natalia
Codigo Rosa, Watermelon, Lemon

Melissa
Don Julio Blanco, Strawberry, Basil
SPRITZ 20
SELECT SPRITZ
Select L' Apertivo, Chandon Garden Spritz
Q Mixers Classic Tonic Water
JSPRITZ
Jameson, Orange Juice, Ginger Ale, Fruit Flicks
ANGURIA
Bombay Sapphire, Watermelon
Q Mixers Club Soda
MOCKTAILS 16
Mañana Sin Resaca
CleanCo Tequila, Owen's Espresso, Martini Mix

Not A Gin & Tonic
CleanCo Gin, Q Mixers Sparkling Grapefruit

Not A Rum & Coke
CleanCo Rum, Q Mixers Kola

ROSÉ + SPARKLING
glass/bottle
G.H. Mumm Grand Cordon Brut 25/120
Whispering Angel Rosé 18/80
Moët Chandon Brut 32/150
Moët Chandon Rosé 35/175
Alberigo Prosecco Doc Extra Dry 17/65
WHITE WINE
glass/bottle
Sauvignon Blanc - Cote des Roses 16/70
Sancerre, L'Escape 20/95
Chardonnay, Imagery 18/85
Pinot Grigio - Grandi Mordi 16/70
Pecorino - Nestore Bosco 15/65
Chablis - Joseph Le Roi 20/95

RED WINE
glass/bottle
Pinot Noir, Excurdo Rojo 16/65
Malbec, Aguaribay Argentina 16/65
Cabernet Sauvignon, UKO Argentina 16/65
Shiraz, Barossa Valley Australia 15/60
Barbera d'Astis, Prunotto Fiulot Italy 17/65

*Vintage selection is subject to availability.

DRAFT
Please see our specials for daily draft selection.

BOTTLED BEER 12
Peroni
Carona Light
Guiness
Sixpoint Lager
Sixpoint Crisp
Montauk Watermelon
Montauk Summer Ale
Founders IPA
Michelob Ultra
CIDER + SELTZER
Angry Orchard 10
NUTRL (Pineapple, Mango, Watermelon,
Raspberry) 12
COGNAC
by the bottle

HENNESSEY VSOP 400
HENNESSEY VS 600
HENNESSEY XO 800

SINGLE MALT WHISKEY
by the bottle

GLENLIVET 15year 400
GLENLIVET 18year 600
OBAN 18year 700
MACALLAN 18year 1000
MACALLAN 21year 1500

SCOTCH WHISKEY
by the bottle

JOHNNIE WALKER black label 400
JOHNNIE WALKER 18year 600
JOHNNIE WALKER blue label 700

BOURBON & RYE WHISKEY
by the bottle

BULLEIT BOURBON 350
JAMESON 400
BASIL HAYDEN 400
BULLEIT RYE 350
WOODFORD RESERVE 450

Tax and gratuity is not included.
Bottles served with sodas and juices of
your choice.
VODKA
by the bottle

KETEL ONE 350
TITO'S 350
BELVEDERE 350
GREY GOOSE 350
BELVEDERE MAGNUM 750
GREY GOOSE MAGNUM 800
GIN
by the bottle

BOMBAY SAPPHIRE 300
TAQUERAY LONDON DRY 300
HENDRICKS 350
MONKEY47 400
RUM
by the bottle

BACARDI CARTA BLANCA 350
BACARDI CUATRO 400
ZACAPA 23 500
TEQUILA & MEZCAL
by the bottle

PATRON SILVER 350
CASAMIGOS SILVER 350
DON JULIO BLANCO 350
VOLCAN SILVER 350
PATRON REPOSADO 400
VOLCAN REPOSADO 400
PATRON ANEJO 450
DON JULIO 1942 800
PATRON EL ALTO 800
CLASE AZUL REPOSADO 800
VOLCAN CRISTALINO 800
ILLEGAL JOVEN 350
Monday - Friday 4-7PM
CLASSIC COCKTAIL SELECTIONS 16
or
PITCHERS 50
WINE 10
select red + white by the glass
BEER 8
select drafts + bottles
APPETIZERS 12
Honey Sriracha Wings
Guacamole + Chips
Beef Sliders
BRUNCH MENU
available Saturday - Sunday 11AM - 3PM only
*V = VEGETARIAN
*GF = GLUTEN-FREE
BOTTOMLESS BRUNCH COCKTAILS 30
Bloody Mary (choice of spirit)
Mimosa
Prosecco
Sangria
Frozen Drinks
*Valid with any brunch entrée. 1.5 hour limit.

BRUNCH COCKTAILS
BLOODY MARY 21
Tito's, tomato juice, homemade spicy mix
olives, celery, lemon

MIMOSA 21
fresh orange juice, sparkling wine

BELLINI 21
peach puree, sparkling wine
TO START
SRIRACHA WINGS 20
prize-winning honey sriracha sauce

FISH TACOS 21
choice of fried or grilled
cabbage slaw, cotija cheese, tartar sauce

SPINACH + ARTICHOKE DIP 19
tortilla chips *V *GF

BEEF SLIDERS 19
lettuce, tomato, pickles, cheddar

BREAKFAST CLASSICS
FRENCH TOAST 18
brioche, maple syrup, butter *V
CHICKEN & WAFFLES 24
sweet waffles, fried boneless chicken
STEAK FRITES 38
chimichurri butter, hand-cut fries *GF

SANDWICHES + TOASTS
AVOCADO TOAST 19 *V
add soft boiled egg +3

CAPRESE GRILLED CHEESE 20
fresh mozzarella, tomatoes, house-made pesto,
toasted brioche *V

MARGHERITA FLATBREAD 20
fresh mozzarella, roasted tomatoes, basil *V
CHESTER BURGER 24
cheddar, lettuce, tomato, onion, pickles
chipotle aioli mayo, toasted brioche
add bacon +3
WAGYU BURGER 36
kumato tomato, caramelized onions, garlic aioli
PLATES + EGGS
AMERICAN BREAKFAST 22
2 eggs your way, roasted home fries
choice of: applewood smoked bacon or breakfast sausage

FLORENTINE OMELET 20
tomato, spinach, swiss cheese, home fries *V
add egg whites +2

BREAKFAST SANDWICH 19
eggs, bacon, cheddar, hash browns
choice of bagel: plain or everything

SAUSAGE, EGG, CHEESE SANDWICH 19
sausage, egg, gruyere, brioche bun, home fries

HOUSE SALAD 19
mixed greens, tomatoes, cucumber, grilled corn, avocado
cojita cheese, white balsamic dressing *V *GF
add chicken +7

ON THE SIDE *V
HAND-CUT FRIES 10
TRUFFLE FRIES 12
SAUTÉED FRENCH BEANS 10

DESSERT 12
CREME BRÛLÉE
MIXED FRUIT TARTE
BROWNIE A LA MODE
CHOCOLATE CHIP COOKIE A LA MODE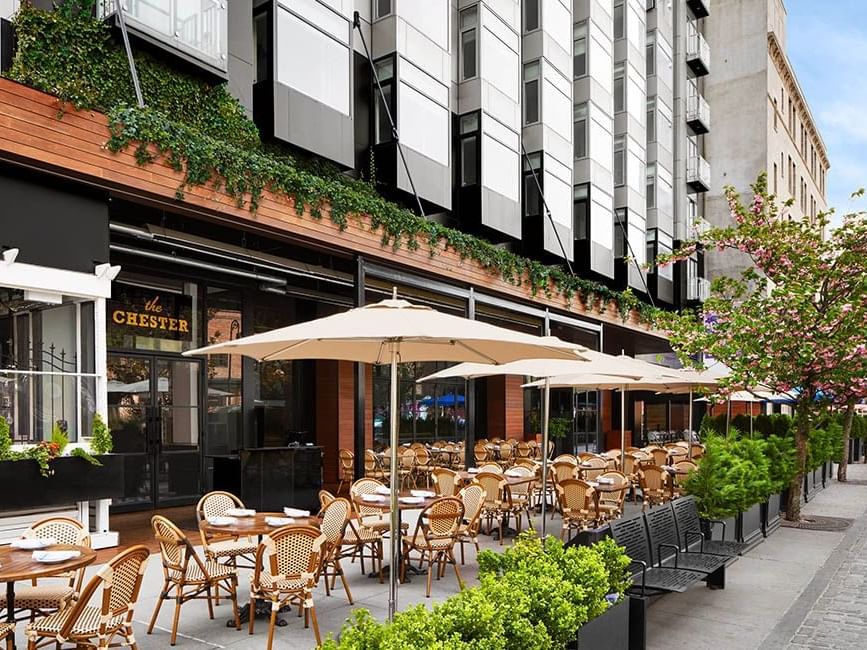 outsidechester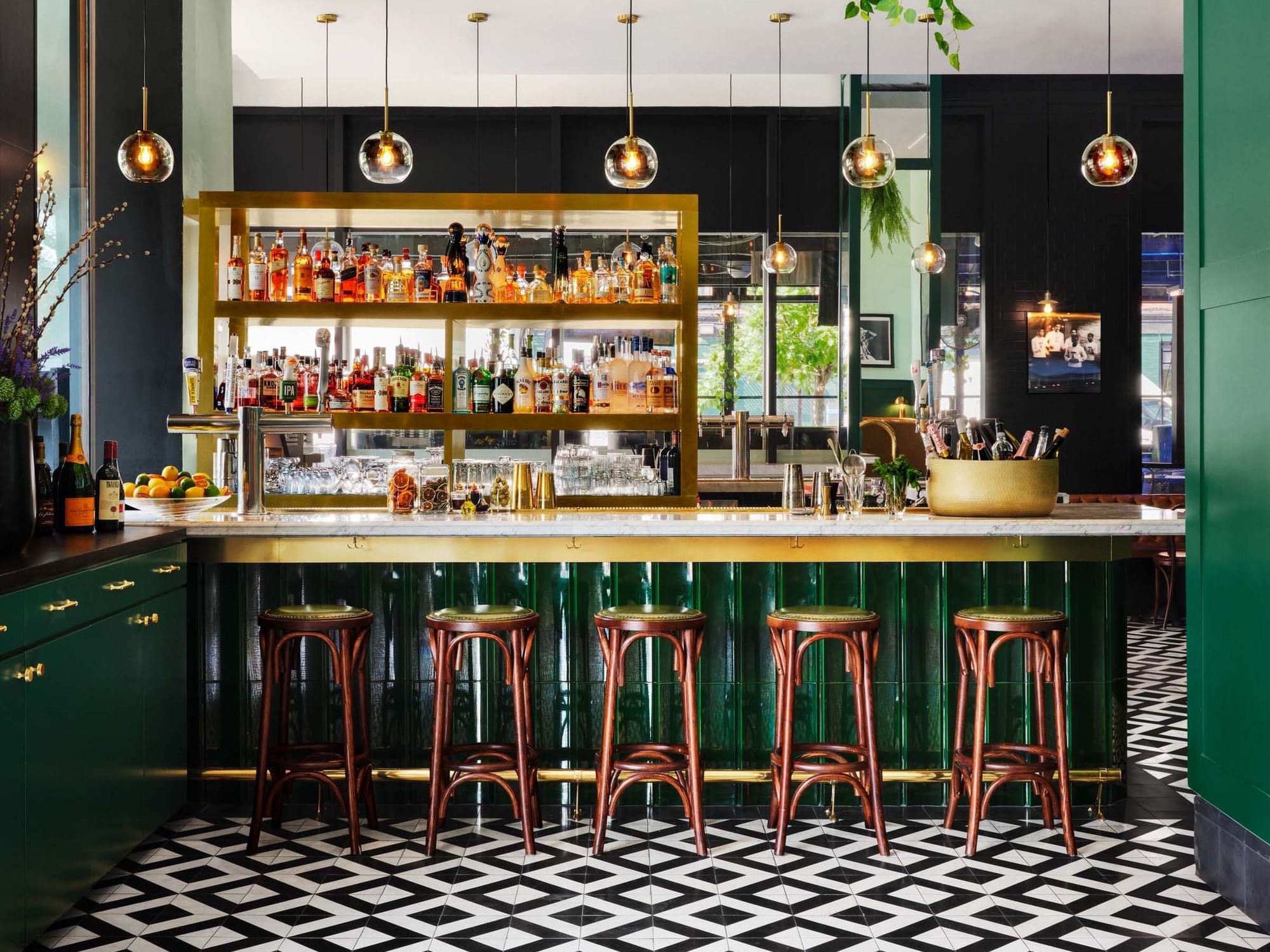 xDMitchell_220712_Gansevoort_03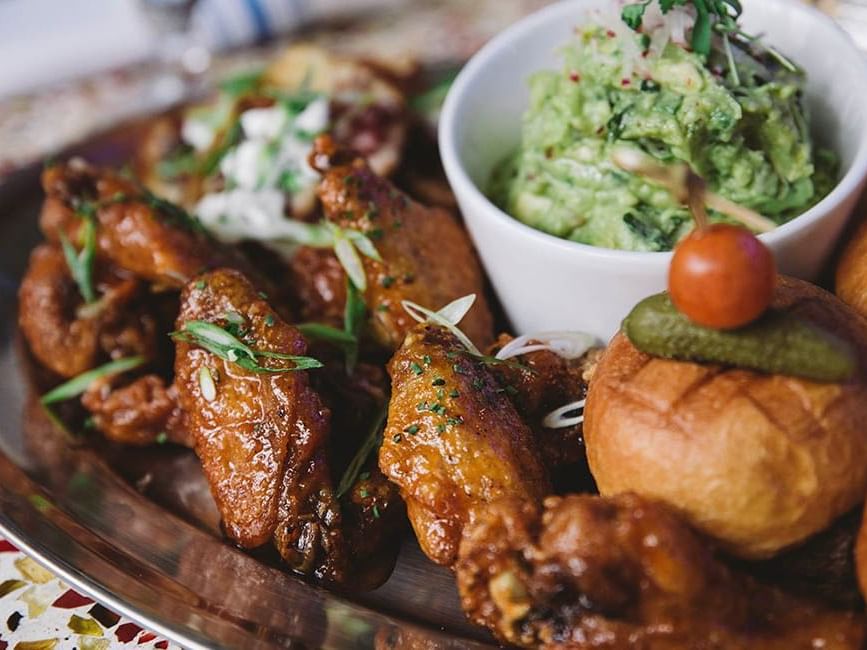 chester-wings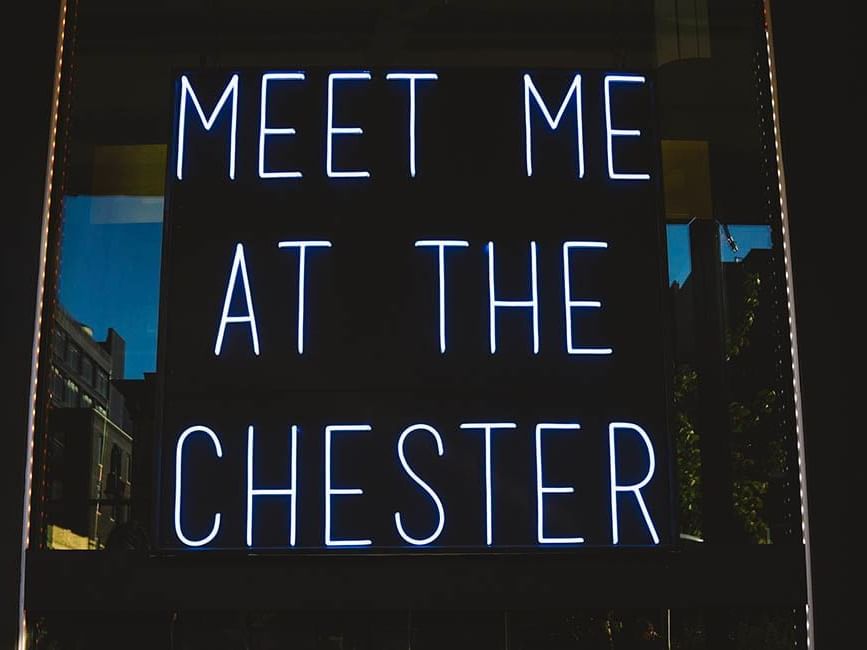 meetmeatthechestersign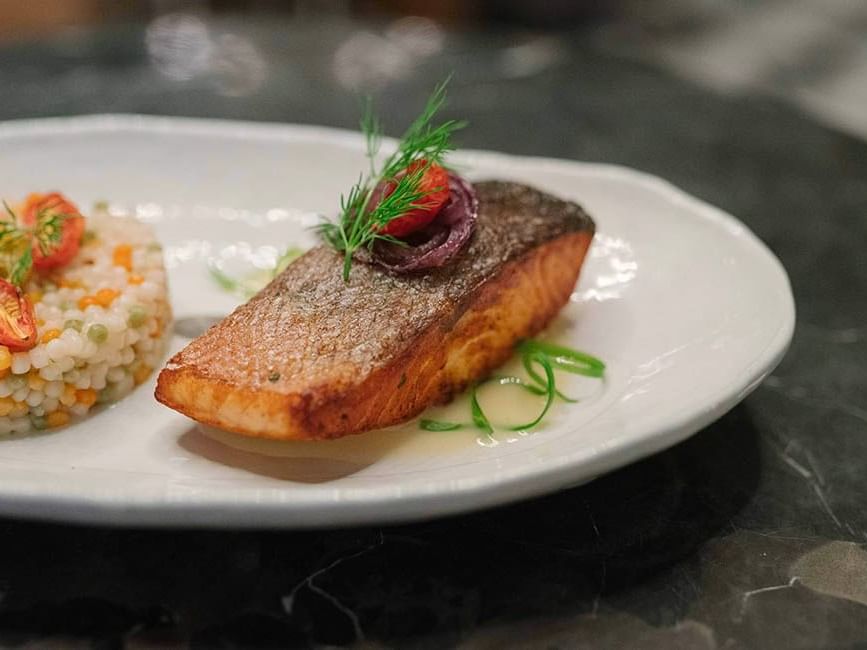 salmon-chester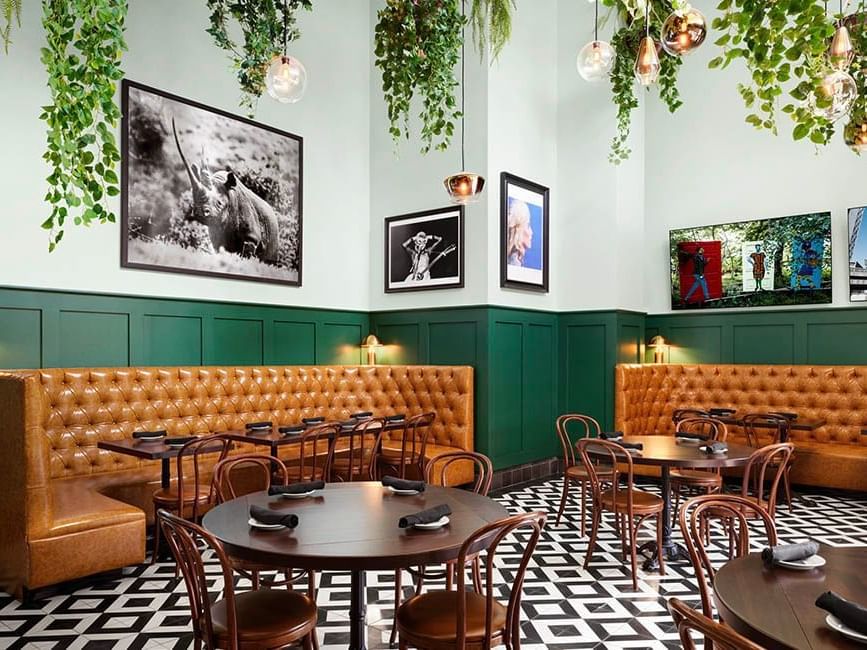 newinsidechester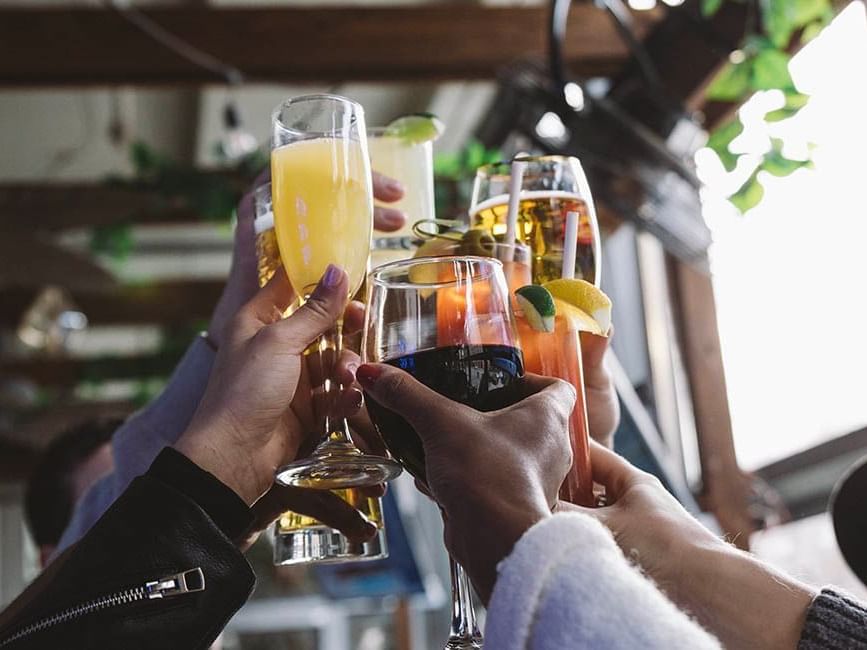 drinks-chester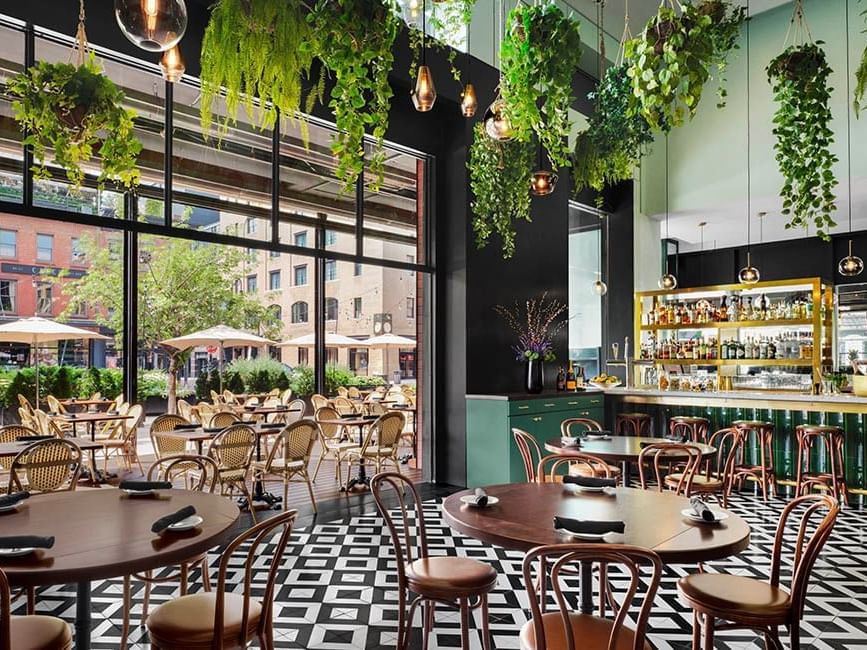 newchesterrest