Gansevoort Meatpacking's rooftop bar is the ultimate city escape and is adjacent to the iconic pool. The newly transformed space features a glass enclosure with a brass-framed blue onyx topped cocktail bar, stylish custom patterned lounge seating, Moroccan tiled floors and an outdoor terrace with stunning Hudson River and city views. A custom ornate Italian fresco filled with surreal forbidden fruit trees and wisteria motifs welcomes the outdoors in. The bar and dining room's menu features coastal European ingredients, fresh light bites, and a cocktail menu crafted to perfection. Guests can enjoy signature dishes including a lemon crusted Branzino, Chakchoucka Salad and Shrimp Pil Pil as well cocktails like "The Rooftop Spritz", an elevated take on the aperol spritz featuring Gin and notes of Valencia orange or the "Sicilian Sangria" based with a Montepulciano and sweetened by Limoncello. Gansevoort's rooftop is perfect for a leisurely lunch, sunset apéritivo or late night jazz performance.

The industrial loft-inspired dining room features a chevron hardwood floors with a curved beamed ceiling, a blush pink marble bar, intimate vintage rose velvet banquette seating, and a dramatic circular communal table with a ten-foot olive tree centerpiece that offers 'a canopy' for guests' dining experience. A gorgeous wrap-around terrace is filled with lush greenery, bromeliads, and palms creating the ultimate outdoor oasis. During the colder months, the terrace has operable walls so that guests can enjoy the space throughout the year.
RESERVATIONS
Reservations are strongly encouraged and can be made through OpenTable.
MINIMUM SPENDS
Gansevoort Rooftop operates a food & beverage minimum spend requirement as follows;
Off Peak Period
Wednesday, Thursday & Sunday all day, Friday & Saturday 1PM-4PM
$50 per person
Peak Period
Friday & Saturday 4PM-11PM
$75 per person
*Gansevoort Hotel guests are exempt. All groups of 9 or more will be subject to a higher minimum spend. Kindly submit a request to our Events Team to plan your experience.
HOURS:
Monday & Tuesday: Closed
Wednesday: 4PM-11PM
Thursday: 4PM-12AM
Frday: 1PM-1AM
Saturday: 1PM-1AM
Sunday: 1PM - 10PM
DRESS CODE
We ask that guests of Gansevoort Rooftop adhere to the dress code policy listed below. Admission to the rooftop is subject to the discretion of our host and management team.
Fashion-forward well-tailored attire is required at all times. Athletic shoes in worn condition, baseball caps, beanies, flip flops, overly revealing garments, graphic t-shirts, and ripped denim are not permitted.
VIP + BOTTLE SERVICE
Reservations are recommended. Email Dining@theghg.com for further details.
SPECIAL EVENTS
Submit Your Request for Special Event Information Opens in a new tab.
Menus
STARTERS + SHARED PLATES

Greek Salad 22
little gem, feta, kalamata olives, house vinaigrette
Caesar Salad 21
little gem, anchovies, croutons
24-month aged Parmigiano Reggiano
Charcuterie & Cheese 34
Chef's selection, crackers
Guacamole 22
pineapple, homemade plantain chips
Spinach Salad 16
sautéed spinach, garlic, preserved lemon
kalamata olives
Farro Salad 22
farro, spinach, apple, cranberry, goat cheese
citrus vinaigrette
House-Made Traditional Hummus 16
pita, olive oil drizzle, paprika
Roasted Eggplant 18
chargrilled eggplant, pita, cumin, garlic
Spinach Artichoke Dip 20
sautéed spinach, artichoke heart
mozzarella, parmesan
Shrimp Pil Pil 22
black tiger prawns, pita, arrabbiata sauce
Papas Bravas 14
poached then fried potatoes, pita, sriracha aioli
Sicilian Meatballs 20
Chef's special blend of fennel sausage, pita
house-made tomato sauce, oregano
KEBAB SKEWERS
Lamb 36
pan-seared lamb loin, mint chutney
Chicken 21
chicken breast, harissa aioli, ginger & garlic olive oil
Steak 28
charred filet mignon, Chef's spice mix
Salsiccia 30
Italian fennel sausage, slow-cooked roasted peppers
SANDWICHES + FLATBREADS

Homemade Veggie Burger 22
tzaziki, avocado, tomato, cheddar, handcut fries
Wagyu Burger 38
kumato tomato, caramelized onions, garlic aioli,handcut fries
Lobster Roll 36
toasted brioche bun, fresh Maine lobster salad, potato chips
Truffle Flatbread 36
fresh ricotta cheese infused with
black truffle, burrata, micro parsley
Soppressata Flatbread 26
Italian salami, whipped ricotta, honey
*Please alert your server of any allergies or dietary restrictions prior to ordering. There is an automatic gratuity of 20% for parties of 5 or more.
MAINS
Roasted Half Amish Chicken 32
truffle butter, spring vegetables
Filet Mignon 48
grilled beef fillet, cauliflower steak
Branzino 38
lemon-crusted branzino fillet, baby carrots, dill beurre blanc
SUSHI
Served from Saishin at Gansevoort Rooftop Wednesday through Sunday 1pm to close.
20% service charge will be added to all Sushi options
Avocado Maki 12
Cucumber Maki 12
Tuna Maki 16
traditional tuna maki
Salmon Maki 16
traditional salmon maki
Yellowtail Maki 16
traditional yellowtail maki
California Roll 16
crabmeat, cucumber, avocado
Vegetable Roll 22
cucumber, avocado, tomato confit, kampyo
wrapped with kombu nori
Rainbow Roll 28
crabmeat, cucumber, and avocado topped with assorted fish
Shrimp Tempura Maki 28
shrimp tempura inside with cucumber,avocado
Available Wednesday through Sunday 5pm to close.
Toro Futomaki 38
4pc Nigiri Flight 45
Chef's choice
Tuna Nigiri Tasting 48
Akami, Chutoro, Otoro
6pc Nigiri Flight 65
Chef's choice
SIDES

Handcut Fries 12

Truffle Fries 15
truffle oil, parmesan

DESSERT 14

Crème Brûlée

Mixed Berry Tart
Flourless Chocolate Cake
COCKTAILS
EXPRESS MY TINI 26
Grey Goose, Vanilla, Caffè Borghetti, Espresso, Fernet Branca
SICILIAN SANGRIA 24
Etna Bianco, Limoncello, Italicus, Grapes, Lemons, Prosecco
CHAPTER TWO 26
Old Forester, Old Fashioned Syrup, Citrus Bitters
SEX & FLOWERS 26
Belvedere-infused Pea Flower, Simple Syrup, Prosecco
BETTER DAYS 26
Ford's Gin, Watermelon, Lemon
TIKA TAKA 27
Patron Silver, Ilegal Mezcal Joven, Martini Bitter, Pineapple, Lime
TOKI HIGHBALL 27
Toki Japanese Whisky, Club Soda, Mint
SUMMER LEE 26
Grey Goose, St. Germain, Muddled Cucumber, Mint
ARI GOLD 26
Don Julio Blanco, Passion Fruit, Agave, Tajin Salt Rim
TWO LOVERS 26
Konik's Tail Vodka, Lime, Lychee, Cranberry
BABY BELLA 26
Diplomatico Planas, Malibu, Coco Lopez, Pineapple, Dragonfruit Syrup
LA VIDA LOCA 26
400 Conejos Mezcal, Lime, Vanilla, Chinola Passionfruit Liqueur, Aquafaba
VOLCANIC VISION 27
Volcan de Mi Tierra, Del Maguey Puebla Martini
Bitter, Mango, Grapefruit, Passion Fruit
SIR BENTLEY 26
Amaro Montenegro, Hennessy VS, Salted Caramel,
Root Beer, Old Fashioned Bitters
_______________________________________________
Elevate any tequila-based cocktail +$50
Choose your Spirit:
Volcan XA
Patron El Alto
Don Julio 1942
Komos Rosa
Cierto Añejo *additive-free
MOCKTAILS

NOT A GIN & TONIC 16
CleanCo Gin, London Essence
Grapefruit Rosemary Tonic
NOT A TEQUILA & SODA 16
CleanCo Tequila, London Essence Bitter
Orange & Elderflower Tonic
BEER

Brooklyn Lager / Heineken / Corona Light 13
Peroni / Stella Artois 14

NUTRL Vodka Seltzer 13
SPRITZ + MORE

THE ROOFTOP SPRITZ 26
Bombay Sapphire, Martini Fiero, St. Germain Moët Chandon Garden Spritz
A LITTLE HELP 26
Tito's, Mango & Pineapple Syrup, London Essence Tonic Water
BRIGHT LIGHTS 27
Absolut, Italicus, Noilly Prat infused Capers
Grapefruit, London Essence Grapefruit Soda
PALOMINO 26
Maestro Doble, Guava Purée, Agave
London Essence Grapefruit Soda
SUNSET SESSION 26
Belvedere Organic Lemon & Basil
Pastis, London Essence Pineapple Soda
SELECT SPRITZ 27
Select Aperitivo, Moët Chandon, London Essence Pineapple Soda
SANGRIA 23
choice of red, white or rosé wine
choice of spirit: Altos, Absolut, Vida
Barcardi 4, Jameson Whiskey, Triple Sec, Fresh Apples, Oranges, Lemons
WHITE
glass/bottle
Pinot Grigio 2019 Grandi Mori 16/65
Vermentino Di Toscana 2019 Elianto 18/70
Sauvignon Blanc 2019 Côte de Roses 17/68
Sancerre 2020 L'Escape 20/95
Chablis 2018 Joseph Le Roi 18/75
Chardonnay 2019 Maison Deux-Fleurs Macon Villages 22/95
Sonoma Cutrer 2021 Chardonnay 25/110
Cloudy Bay 2021 Sauvignon Blanc 25/110
ROSÉ
glass/bottle
Whispering Angel 2018 20/90
Rock Angel 2020 22/95
Miraval 2022 20/90
RED
glass/bottle
Cabernet Sauvignon 2018 UKO 19/90
Barbera d'Asti 2019 Prunotto Fiolot 16/65
Brunello Di Montalcino 2016 Canneta 29/120
Le Filere Barolo, Vallebelbo 29/120
Pinot Noir 2019, Hidden Vines 20/95
BUBBLES
glass/bottle
Moët Chandon Brut 36/175
Moët Chandon Rosé 39/190
Alberigo Prosecco Doc Extra Dry 17/65
CHAMPAGNE
Veuve Clicquot Brut 185
Veuve Clicquot Rosé 200
Dom Pérignon 2012 600
Dom Pérignon Rosé 700
Krug Grande Cuvee 400
Krug Vintage 2006 600
Louis Roederer Crystal 700
BITES
SEASONAL FRUIT PLATTER 19
SUMMER SALAD 25
mixed greens, tomatoes, cucumber,
grilled corn, avocado,cojita cheese, white balsamic dressing
add chicken +7

KALE + ARUGULA SALAD 27
citrus vinaigrette
add chicken +7
CAPRESE GRILLED CHEESE 25
fresh mozarella, tomatoes, house-made pesto,
toasted brioche

WAGYU BURGER 38
kumato tomato, caramelized onions
garlic aioli, handcut fries

GUACAMOLE 23
with tortilla chips

HANDCUT FRIES 14

TRUFFLE FRIES 16
SUSHI
Served from Saishin at Gansevoort Rooftop Wednesday through Sunday 1pm to close.
AVOCADO MAKI 12
CUCUMBER MAKI 12
TUNA MAKI 16
SALMON MAKI 16

CALIFORNIA ROLL 16
crabmeat, cucumber, avocado

VEGETABLE ROLL 22
cucumber, avocado, tomato confit
kampyo wrapped with kombi nori
RAINBOW ROLL 28
crabmeat, cucumber, and avocado topped with assorted fish
SHRIMP TEMPURA MAKI 28
shrimp tempura inside with cucumber, layers of avocado on top
COCKTAILS

BLOODY MARY 25
Grey Goose Vodka, house-made bloody mary mix

MIMOSA 24
Orange juice, champagne

CHANDON GARDEN SPRITZ 22
Valencia Orange peel, citrus spice, bubbles

BABY BELLA 26
Diplomatico Planas, Malibu, Coco Lopez
Pineapple, Dragonfruit Syrup

POOL MARGARITA 26
Patron Silver, Triple Sec, Lime

ELEVATED MARGARITA 50
Contreau, Lime +
Selection Of: Komos Reposado Rosa, Patron El Alto
Volcan XA, Don Julio 1942
BOTTLE 15

Six Point Bengali
Sixpoint Crisp
Stella Artois
Peroni

Corona Light
Heineken
SPIKED SELTZER

NUTRL Vodka Seltzer 13
ROSÉ WINE

Whispering Angel 2018 20/90
Miraval 2022 20/90
Rock Angel 2020 22/95

WHITE WINE

Pinot Grigio 2019, Grandi Mordi 18/67
Chablis 2018 Joseph Le Roi 18/75
Sonoma Cutrer 2021 Chardonnay 25/110
Cloudy Bay 2021 Sauvignon Blanc 25/110

RED WINE

Cabernet Sauvignon 2018 UKO 20/90
Pinot Noir 2019 Hidden Vines 20/95

CHAMPAGNE

Alberigo Prosecco Doc Extra Dry 17/65
Moët Chandon Brut 36/175
Moët Chandon Rosé 39/190
Veuve Clicquot Brut 185
Veuve Clicquot Rosé 200
Dom Perignon 2012 600
Dom Perignon Rosé 700
Krug Grande Cuvée 400
Krug Vintage 2006 600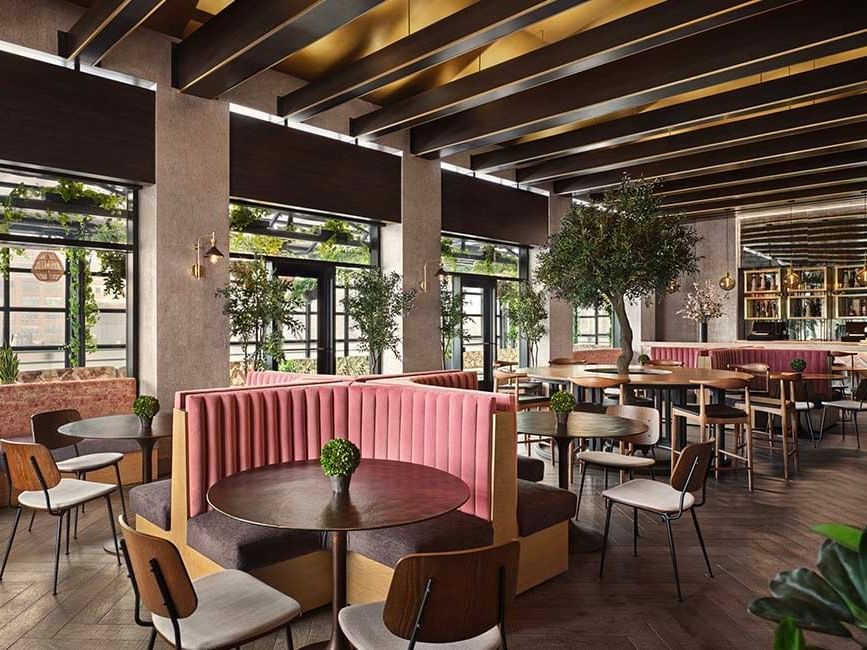 newrtloftday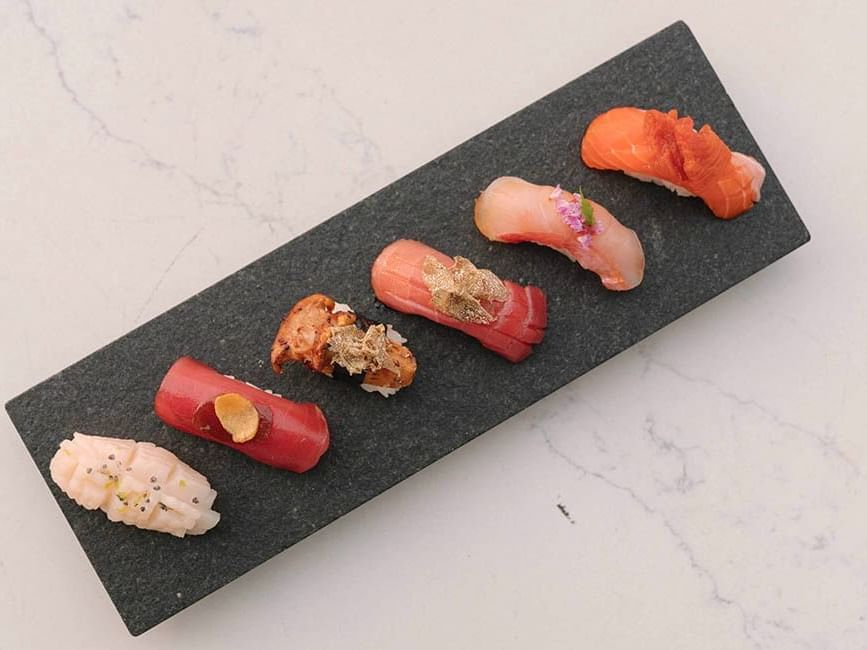 6pcnigiri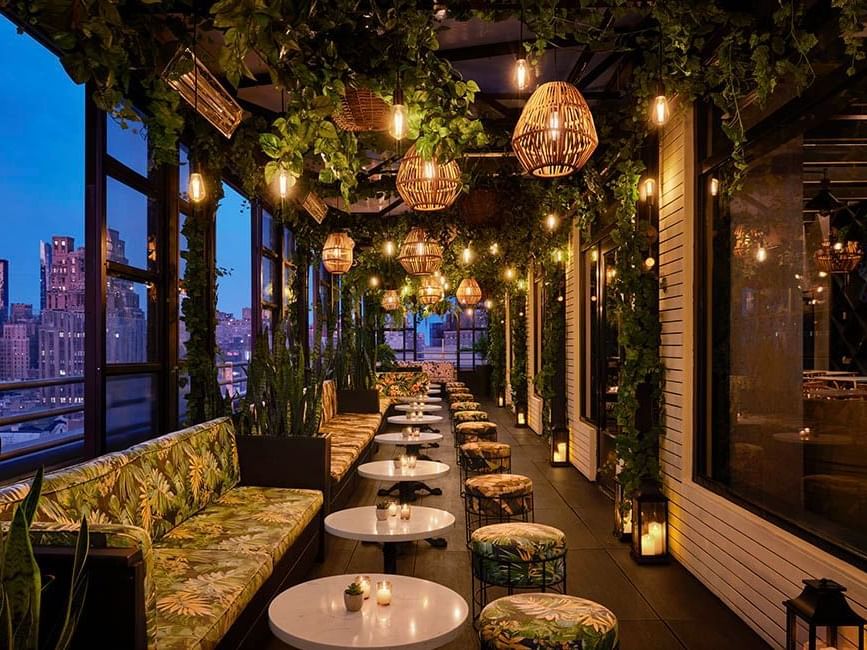 newrooftopnight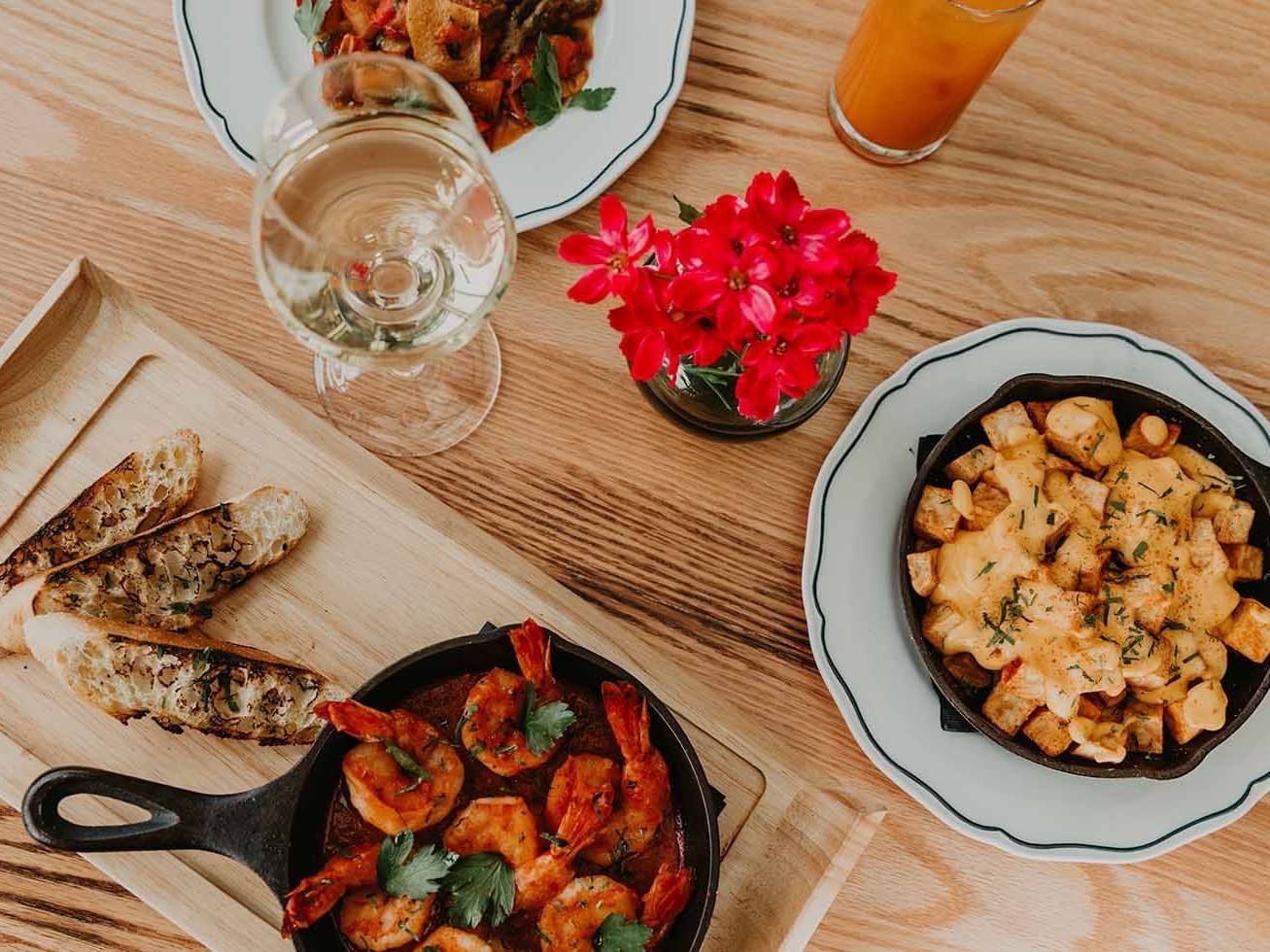 rooftopbiteshero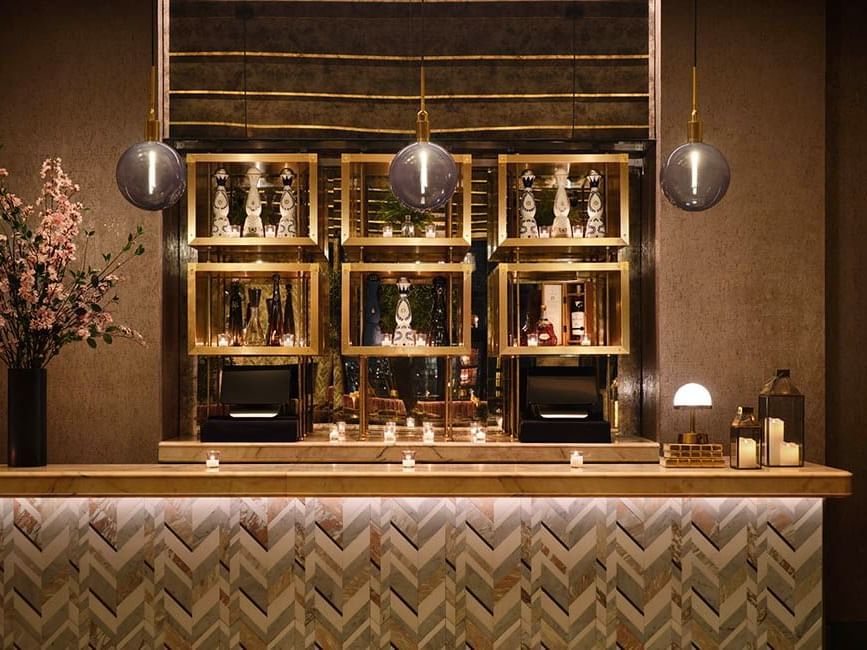 newrtbarwostools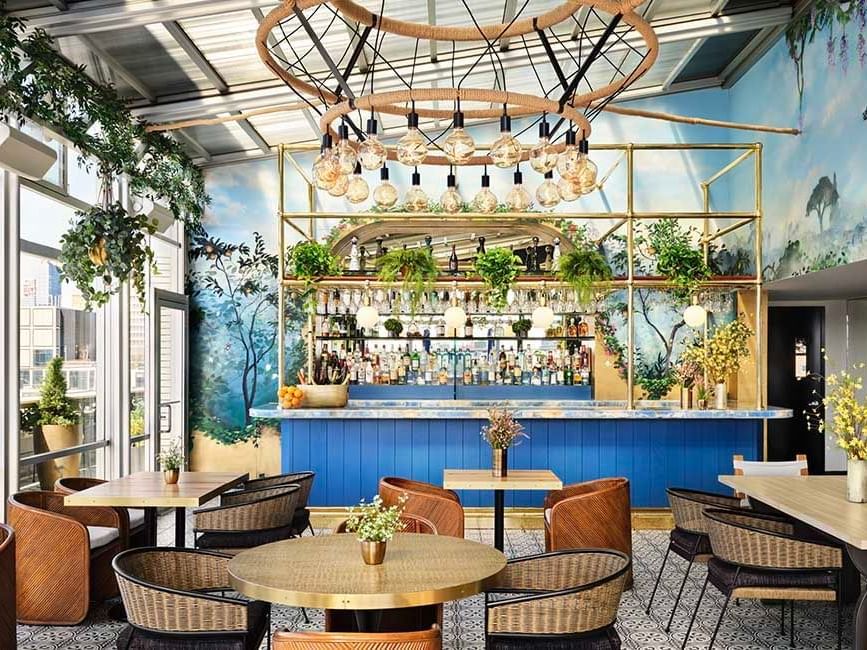 newedenbar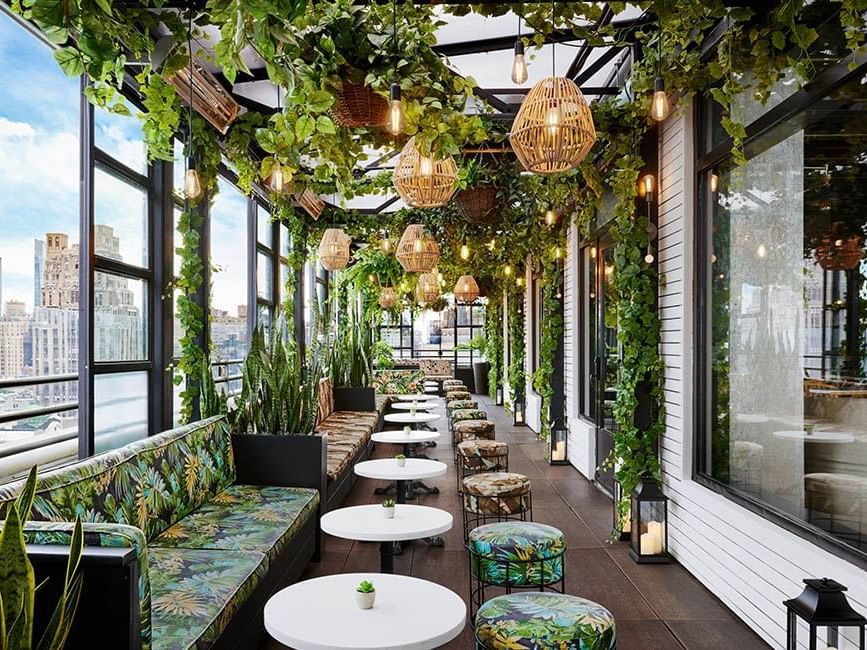 newterraceday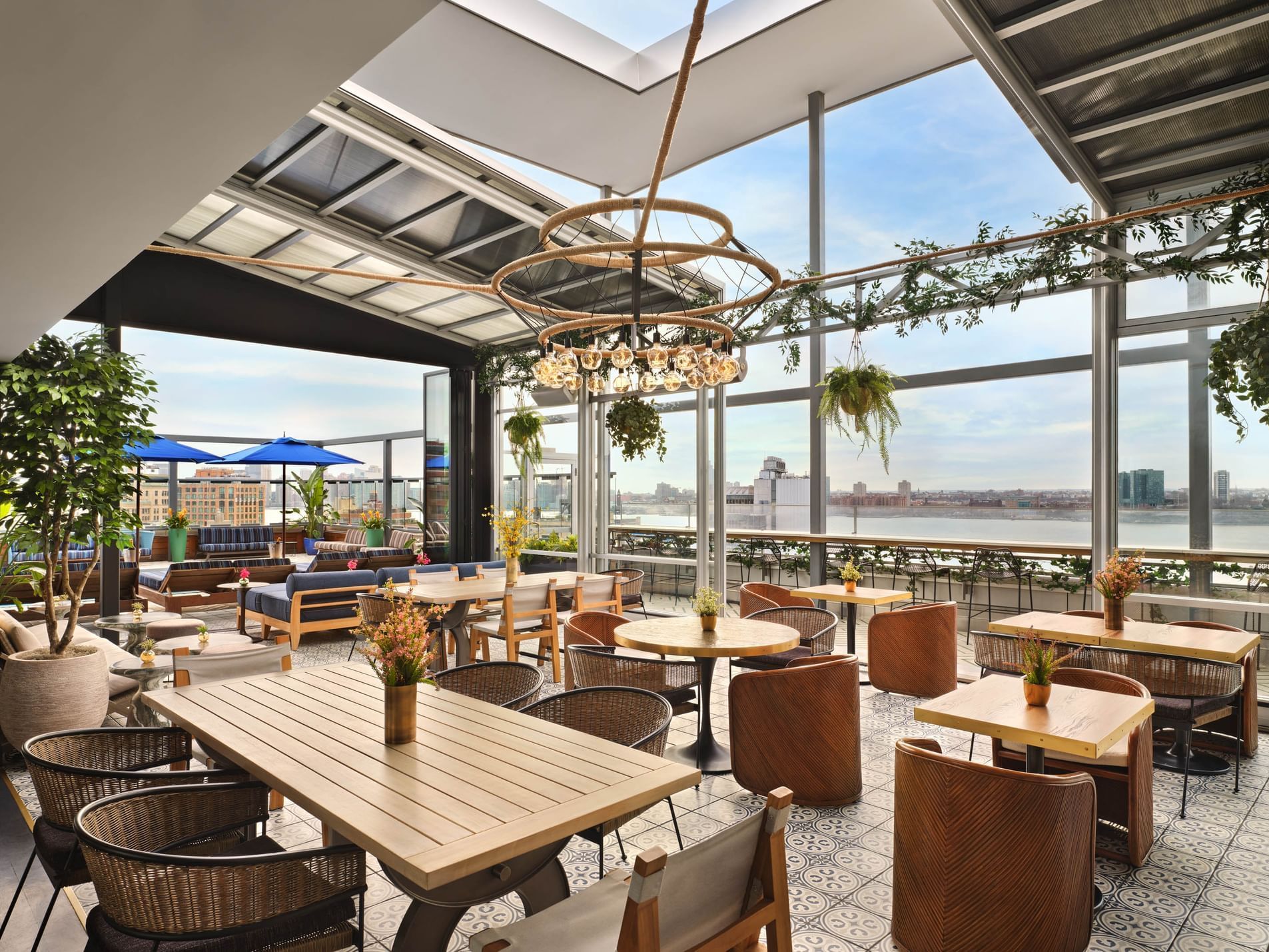 daytimeDMitchell_230314_Gansevoort_Rooftop_17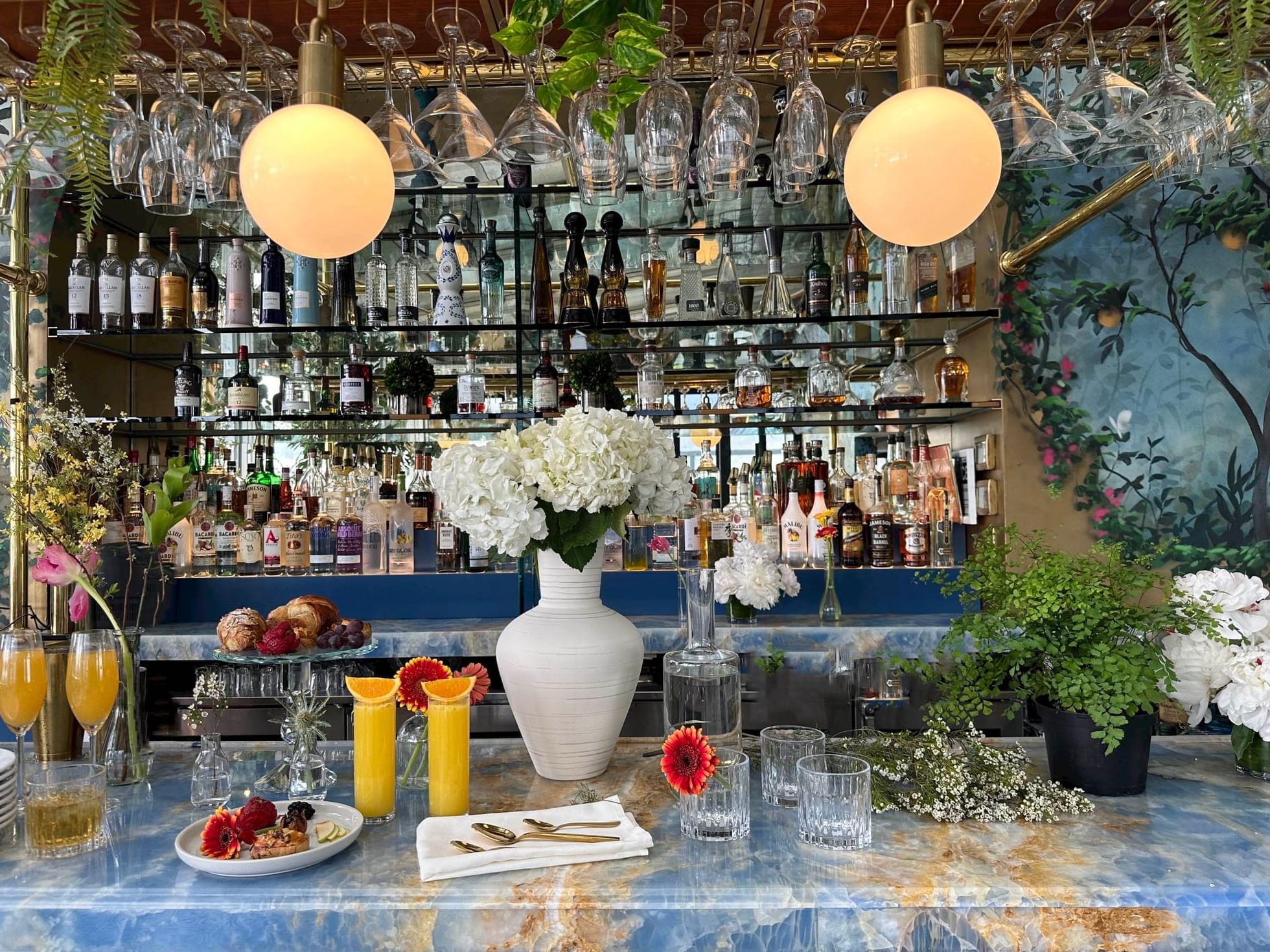 barVictorAlfaro_GansevoortRooftop_BrunchBarSetup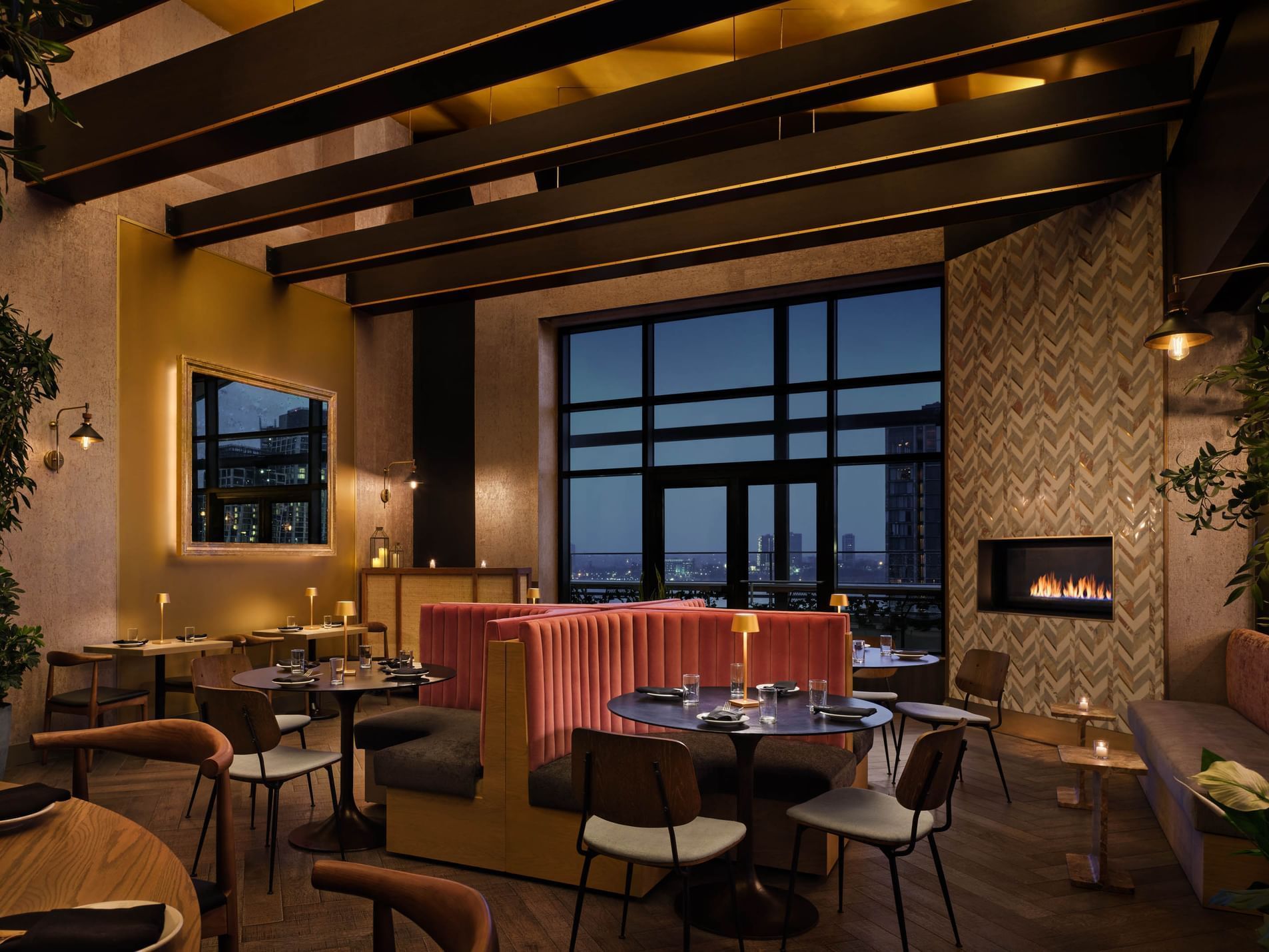 fireplacenightDMitchell_230314_Gansevoort_Rooftop_07